The Mug nails it in terms of how I've been feeling of late. Gord Downie remains a sage voice.
2020 is going to be a year of a lot of contrasts, and its going to fill University History course syllabuses all on its own someday, but for now, we are living through it, the good, the bad, and the ugly. In the interests of full disclosure, all things considered, by any objective standard, the Pandemic hasn't really impacted me. I have remained employed, been paid my full wages, been able to pay my bills, and remained healthy. In some ways, you can even argue its benefited me, I've been saving $150 a month in transit fare, and since we aren't driving anywhere other than groceries and the odd trip to my office, the $100-$150 a month in gas for the car has been averaging $50 a month, and to top if off, being home all the time has meant throughout the spring and summer I have made a lot of progress on the layout that I might not otherwise have made with time spent commuting, or playing sports, or going out with friends/colleagues…and there it starts to come home to roost. Because I have mostly been working from home since March 18th (my employer sent us home part way through March 17th), I've now spent 6 months sitting beneath my layout every day doing my day job, as I have set my home office up in my office/layout room. If I'm being honest, I'm actually getting sick of looking at my layout, to the point there were days a couple of weeks ago where I was seriously at the point where I thought about tearing it all down, I don't think that was a real desire so much as stress and frustration with a lot of things manifesting themselves as my mind telling me "this will feel cathartic", which was/is a lie.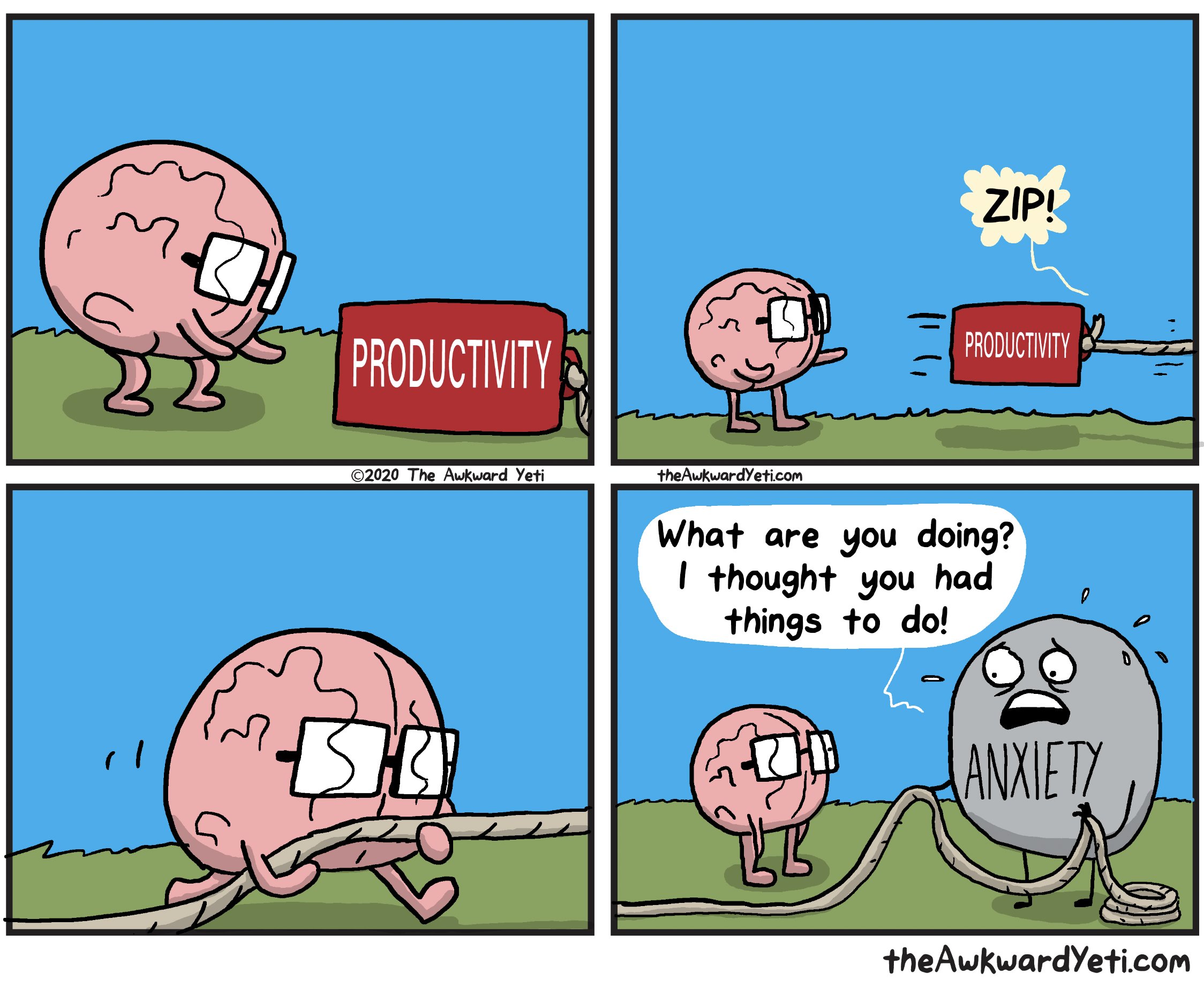 I think this recent comic from the "Heart and Brain" series drawn by one of my favourite artists, "The Awkward Yeti" Nick Seluk sums up where I am with the layout, my anxiety is toying with my brains need to constantly be on and be productive. (Comic obviously Copyright Nick Seluk. I hope if he ever sees this he's ok with my using it, follow him on Twitter, his cat is awesome too!)
As much as I've achieved using the time granted by being home all the time, and the extra bit of budget from reallocating my monthly TTC fare to model railroading, the past couple of weeks since the start of September I have been loathed to look at my trains, but they are everywhere around me all day long. Instead of seeing the progress, I am seeing half finished projects, things that I'm not sure about, and the scope of the work still to do, and I'm building an "Achievable Layout" as my friend Trevor describes manageable sized layout projects. I don't know how someone builds a large layout, a tiny townhouse bedroom is daunting enough thank you very much!
My "Home Office", an MDF extension on an Ikea Cabinet and my employer laptop, to my left all day is my workbench with tempting projects, and above you can just see my benchwork.
Some time in August I finally figured out what it was about Work From Home that I really couldn't stand, its the fact that you really can't leave home after work when you are trying to minimize contact and risk despite whatever "stage" of reopening the politicians say we are in. Our household is immunocompromised, and we are doing ever we can to not go out unnecessarily. No dining out at restaurants, patio or otherwise. No Movies. No return to recreational sports even where we could according to the government. I am desperate to go see some live music (not that anyone is touring, and the one concert tour we had awesome seats for in the Foo Fighters was obviously cancelled), or a sporting event just for the fact that means I would be spending time with my friends doing things we love. While I can go out and railfan, that's a solitary pursuit, and I certainly wouldn't even try to drag my better half out for a day sitting by the tracks waiting on a train appearing!!
I have found I am exhausted all the time, even when not really doing anything. I know I post a lot here, its been part of my motivation to keep working sharing in my rambling way with others (thank you so much for reading!!), so part of this post is to let you know that I just haven't really done anything since putting up my lighting a couple of weeks back. I kinda look at the layout, and listlessly think about projects, maybe get something small done, then wander off to mindlessly stare at the Blue Jays game on TV after getting through another work day.
So with that, I'm out for today, going to watch the last 20 minutes of the Fulham v. Arsenal English Premier League match, I have F1 qualifying taping for after, and am then going to challenge myself to take a bike ride across town to the Hobby Shop and then go meet up with friends from my six a side co-ed soccer team in a park who I haven't seen since our last pre-lockdown game in March. I think they want to kick a ball about, I'll be happy just to have made it there as I doubt I'll have any energy to waste on kickabout with the ride home to follow getting there.
So please stay well friends, look after yourselves, your loved ones and your friends. We're all in this together! Please talk to someone if you are feeling even a little bit down, I know every little vent by text or on the phone when I reach out to friends helps me, hopefully it can do the same for you.